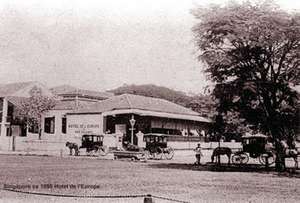 Loenhout's contribution to Singapore's history
No, this article is not about the webmaster's father who lived and worked in Singapore for a few years in the 1990s. Rather, this text is about the real pioneers: an ambitious couple from the Kempen-region in Flanders (north of Belgium), who came to Singapore in 1857 and founded a hotel called "Hotel de l'Europe". It's a hotel that welcomed such famous people as the future king of Belgium, Leopold II, as well as the founder of the religious order of the Scheutists, fr. Theofiel Verbiest.
Klik hier om de Nederlandse versie van dit artikel te lezen.
Singapore is a small island state in the far south of the Malacca peninsula of South-East Asia, formerly part of the British Empire. In the early 19th century, the Dutch and the British argued about the ownership of Singapore. The conflict was settled with the Anglo-Dutch treaty of 1824, which established British rule over the island. Two years later, it was administratively united with Penang and named "Straits Settlements", governed by the British East-Indies Company. By 1830 it became part of the so-called "Presidency of Bengal in British India". Trade flourished and the Singapore harbour became a major transit point for trade with Asia and the rest of the world. By 1880 the Singapore harbour was turning over 1.5 million tons of goods annually, of which 80% was brought in by steamboats. It is also during this period that Singapore became ethnically a predominantly Chinese country. Many impoverished Chinese from Southern-China, fleeing the opium-wars in their home country, migrated to Singapore in search of a better life in the affluent British trade post.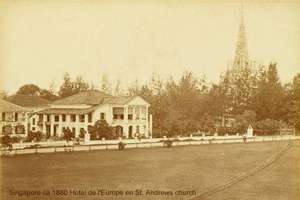 It is in this context that an ambitious Belgian couple settled in Singapore around 1857 and founded a hotel which they called "Hotel de l'Europe" (Europe Hotel). The owner's name was Jozef Casteleyns; he was born in Geel, Belgium and his official profession was "counselor". There is a link with the village of Loenhout, because his wife, Anna Catharina Deckers (who had been a household assistant in Belgium), her mother, Joanna Maria Van de Wouwer, and her mother's mother, Anna Maria Janssens, were all born and raised in Loenhout.
Jozef was already in Singapore in 1856 to prepare the startup of their business. In 1857, a small initial hotel was founded in Hill Street 36 in Singapore. Just as they were starting up, a great misfortune struck the family: their baby boy Charles, just 7 months old, died.
The Casteleyns published advertisements for their hotel in the local newspaper, "The Straits Times", which still exists today. As is still the case today, Flemish people pride themselves on their knowledge of foreign languages: guests could be served in four languages: Dutch, French, English and Spanish. The hotel restaurant which was personally supervised by the lady of the house, offered European dishes which could also be delivered at home.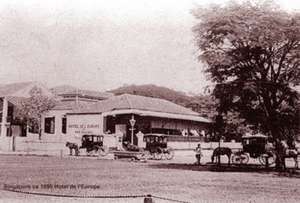 Three years later, in 1860, the hotel moved to Beach Road.
On October 24th, 1864, Singapore was expecting important guests. The crown prince of Belgium, Leopold II, duke of Brabant, who was to become Belgian king just one year later, as well as a few missionaries, one of which was the founder of the catholic religious order of the Scheutists, fr. Theofiel Verbiest, were one their way to China and needed to stay overnight in Singapore. Mr. Casteleyns immediately understood the commercial opportunity this event offered for his new hotel. Just as the delegation had arrived in the harbour, he boarded the ship and asked to talk to the guests from his home country. He offered them to stay in his hotel, an offer which they gladly accepted. Casteleyns and his wife went to great lengths to accomodate the guests as well as possible, and fr. Theofiel Verbiest wrote a very praising letter about this stay, which was subsequently published in several newspapers in Belgium:
"[Casteleyns] had the honour of receiving His Royal Highness the Duke of Brabant on his journey to China. We gladly accepted his offer and were warmly greeted in his hotel by his wife who had prepared a fantastic lunch with typical dishes from their home region, the Kempen. It was delicious. Those good christians (the missionaries in Singapore told us that they are an exemplary family, and that they deserve the heavenly blessings for all the good work they do) have done good business in Singapore and are planning to return to their home country soon." (De Klok van het Land van Waas, 24/12/1865)
Another anecdote about this visit: just as the important guests were about to leave, the crown prince asked if there was anything else he could do for the hotel owner. Casteleyns pondered a bit and then asked the prince if he could personally go and greet his sister on his behalf, who ran a bakery in the north of Brussels. Sure enough, Leopold II kept his promise and visited the bakery, to great surprise of the baker's woman. Obviously, we cannot verify whether this is a true story, but it sure sounds nice and was mentioned in a local Belgian newpaper.
Meanwhile, Casteleyns' business was thriving and only one year later, they took over Hotel de l'Espérance at Esplanade, at the site where currently the Supreme Court stands. They renamed the hotel to Hotel de l'Europe.
Just as they had announced to fr. Verbiest, the couple sold off all their assets in 1869, a mere 12 years after arriving in Singapore. The new owners were two ladies, mrs. Hjelmstrom and mrs. Becker. The Casteleyns moved back to Belgium and had become so rich that they could live off the interests on their capital. Between 1870 and 1900 they lived in the Brabantstraat 127 in Schaarbeek, near Brussels, not far from the Koolstraat, where Casteleyns' sister ran her bakery. It is assumed that the couple also eventually died in Schaarbeek.
Meanwhile in Singapore, Hotel de l'Europe was torn down in 1905 by mrs. Becker who had by that time become the sole owner of the hotel. In 1934 the hotel, which had in the meanwhile received an English name, "The Europe Hotel", was also demolished. At the same place, in 1939 the Supreme Court of Singapore was built, a majestic building which is still in use to this day.
Pedigree
                                     ┌──────────────────────────────┐ ┌──────────────────────────┐
                                     │Joannes Baptista Van de Wouwer│ │   Anna Maria Janssens    │
                                     │       (°25/8/1761, Ekeren)   │ │  (°25/7/1761, Loenhout)  │
                                     │       + 7/7/1838, Loenhout   │ │   + 8/12/1829, Loenhout  │
                                     └───────────────┬──────────────┘ └────────────┬─────────────┘
                                                     │    x 12/11/1781, Loenhout   │
                                                     └─────────────────────────────┤
┌───────────────────┐┌─────────────────────┐┌────────────────────────┐┌────────────┴─────────────┐
│ David Casteleyns  ││Theresia Cauwenberghs││Joannes Baptista Deckers││Joanna Maria Van de Wouwer│
│(°9/12/1774, Retie)││    (°23/1/1779,     ││ (°9/2/1787, Oostmalle) ││  (°10/4/1790, Loenhout)  │
│                   ││ Heist-op-den-Berg)  ││ + 31/3/1873, Loenhout  ││    + na 1867, Loenhout   │
└─────────┬─────────┘└──────────┬──────────┘└─────────┬──────────────┘└────────────┬─────────────┘
          │  x 30/9/1816, Geel  │                     │    x 9/7/1810, Loenhout    │
          └──────────┬──────────┘                     └──────────────┬─────────────┘
      ┌──────────────┴─────────────┐                  ┌──────────────┴─────────────┐
      │Joseph Augustin Casteleyns  │        x         │  Anna Catharina Deckers    │
      │       Vertrouwensman       │     Rijsel       │         Dienstbode         │
      │     (°28/8/1818, Geel)     │    14/4/1853     │   (°5/1/1816, Loenhout)    │
      │        +Schaarbeek?        │                  │        +Schaarbeek?        │
      └──────────────┬─────────────┘                  └──────────────┬─────────────┘
                     └─────────────────────┬─────────────────────────┘
                           ┌───────────────┴──────────────┐
                           │Charles Louis Joseph Deckers  │
                           │  (°13/7/1856, Schip 'Euxine')│
                           │    +14/2/1857, Singapore     │
                           └──────────────────────────────┘
  
Professions:
David Casteleyns was labourer
Joannes Baptista Deckers was labourer and farmer
Joannes Baptista Van de Wouwer was assistant-mayor of Loenhout, farmer, shopkeeper, fabrics manufacturer and baker
About their son
Anna Catharina Dekkers gave birth to a son, Charles Louis Joseph Casteleyns on the steamboat EUXINE on July 13th, 1856 at 6am. The birth was registered on August 18th, 1856 in the "Registre n°8 Etat civil 49 volumes 1841-1912" of the French city of Nantes. One of the witnesses was Jean Baptiste Paulin Lagorce, consul of France. The father, Joseph Augustin Casteleyns is mentioned as "servant, living in Singapore". Hence, in 1856 he was already in Singapore, probably preparing the startup of their hotel. Charles Louis Joseph Casteleyns died in Singapore on February 14th, 1857 at 10am. The death was reported by fr. Beurel. This death was also registered in the civil registers of the city of Nantes in France ("Registre n°9 Etat civil 49 volumes 1841-1912".
Sources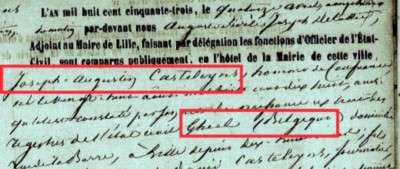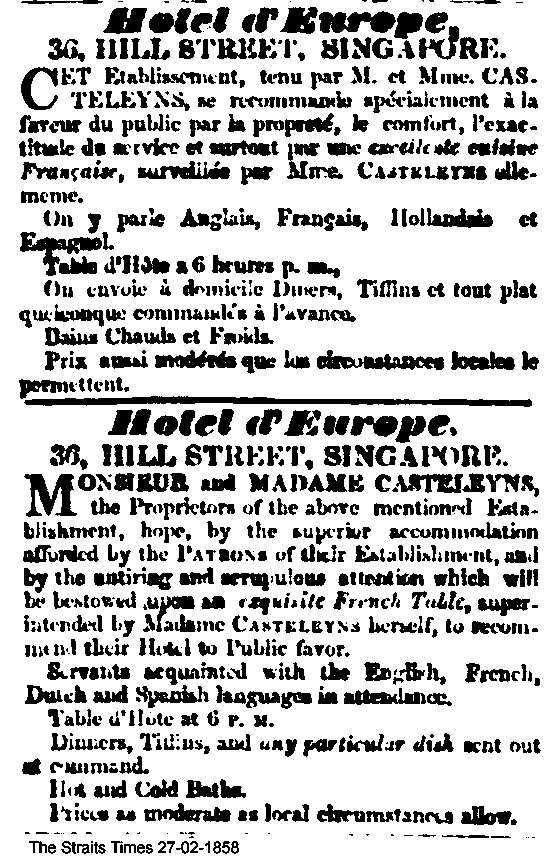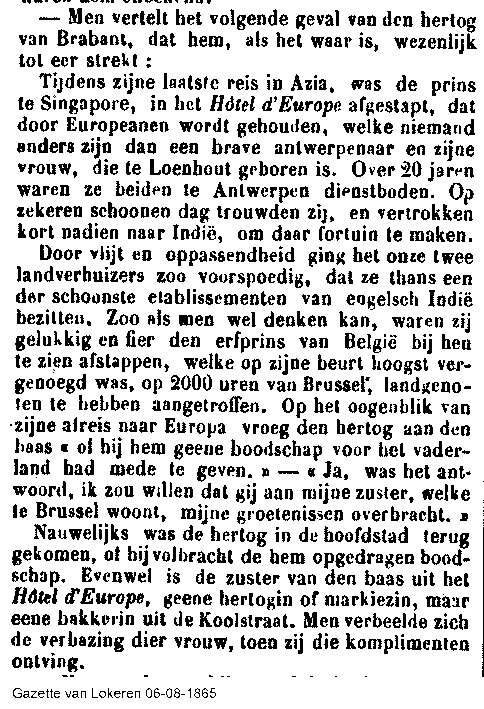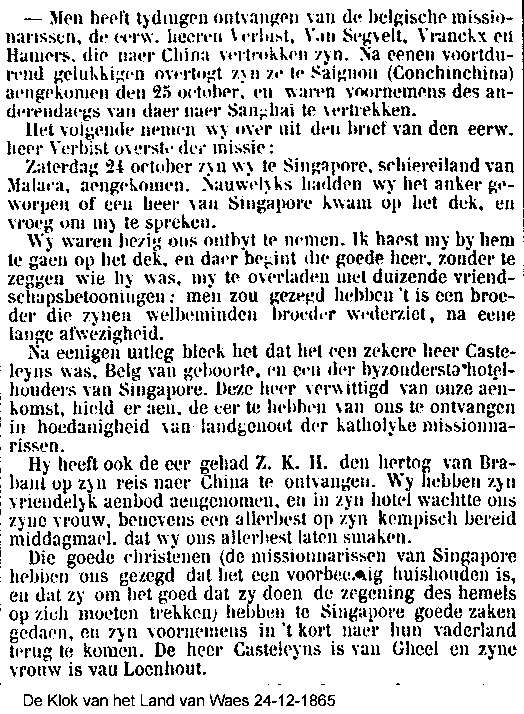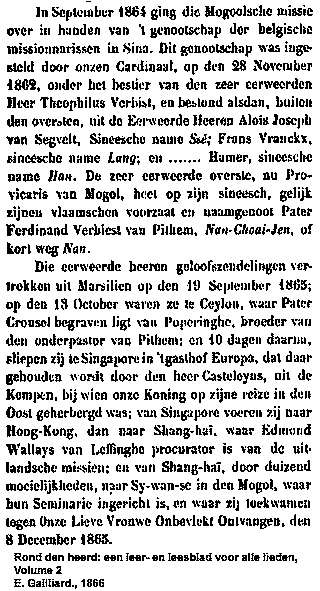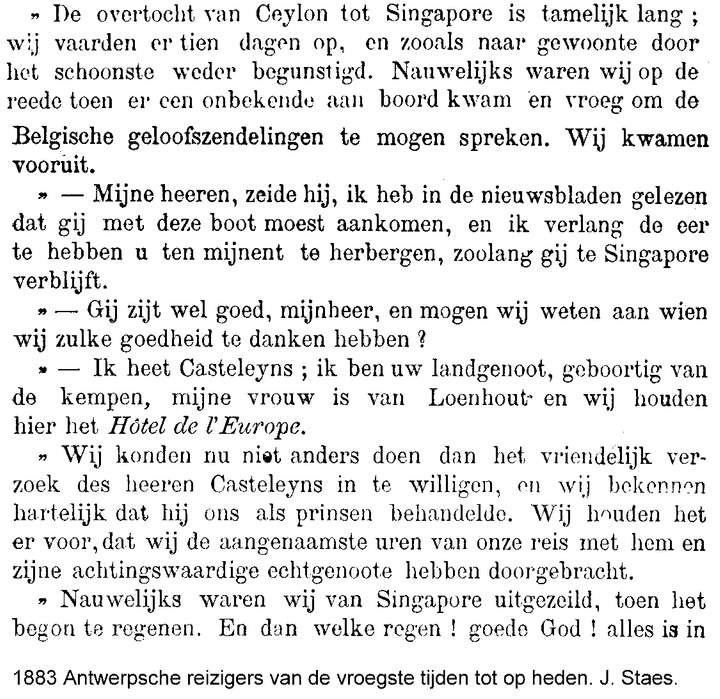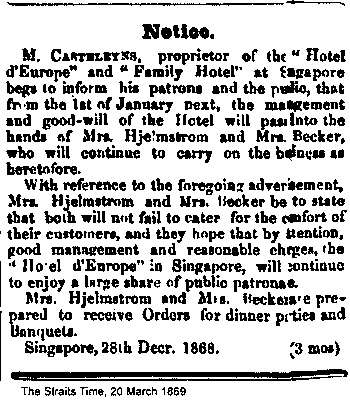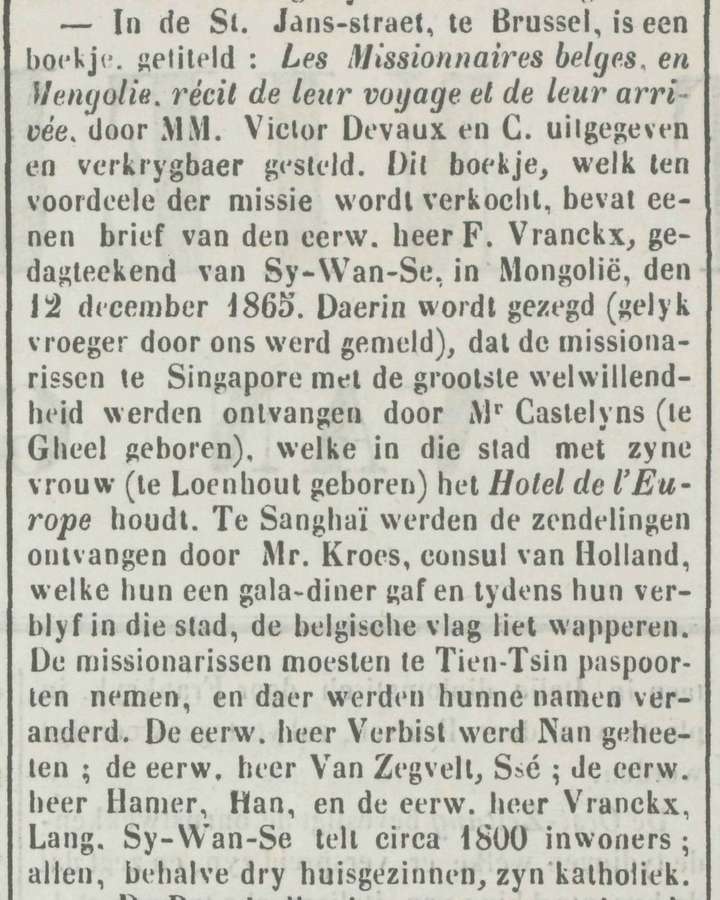 Text of the ad published in The Straits Times on 27/2/1858
Hotel de l'Europe
36 Hill Street, Singapore

Cet établissement, tenu par M. et Mme. Casteleyns, se recommande spécialement à la faveur du public par sa propreté, le comfort, l'exactitude du service et surtout par une cuisine Française, surveillée par Mme. Casteleyns elle-même. On y parle Anglais, Français, Hollandais et Espagnol. Table d'Hôte à 6 heures p.m. On envoie à domicile Diners, Tiffins, et tout plat quelconque commandés à l'avance Bains chauds et froids Prix aussi modérés que les circonstances locales la permettent.

Monsieur and Madame Casteleyns, the proprietors of the above mentioned Establishment, hope, by the superior accomodation afforded by the Patrons of their establishment, and by the untiring and scrupulous attention which will bestowed upon an exquisite French Table, superintended by Madame Casteleyns herself, to recommend their Hotel to Public favor. Servants acquainted with English, French, Dutch and Spanish languages in attendance. Table d'Hôte at 6 p.m. Dinners, Tiffins, and any particular dish sent out at command. Hot and Cold baths. Prices as moderate as local circumstances allow.